Our theatre critic Kevin Sessums interviews Rupert Everett for The Daily Beast (he's back on Broadway in a revival of Noel Coward's Blithe Spirit with Angela Lansbury.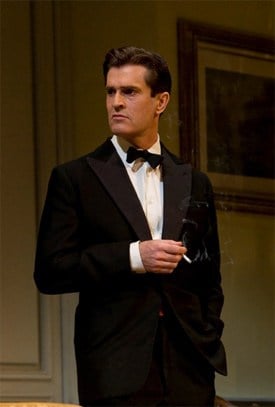 Given Everett's recent profile in the NYT and this new one, entitled "Rupert Everett Unleashed", one wonders if Rupert Everett is ever leashed. I don't think so.
Here's what he has to say about gays who want to be parents:
"I think this surrogacy thing is crap. It is utterly hideous. I think it's egocentric and vain. And these endless IVF treatments people go through. I mean, if you are meant to have babies then great. But this whole idea of two gay guys filling a cocktail shaker with their sperm and impregnating some grim lesbian and then it gets cut out is just really weird. If I did have the impulse to be a parent, I would adopt—or foster. But this whole thing of forcing the idea of parenthood on us gay men is so bogus. Marriage? Babies? Please. I want to be illegal. I want to live outside the mainstream."
Everett believes his wish to be outside of the mainstream puts him "ahead of the curve."
"These awful middle-class queens—which is what the gay movement has become—are so tiresome. It's all Abercrombie & Fitch and strollers. Everybody has the right to do what they want to do, but still..."
As in his NYT profile, Everett also bemoans the state of being out and gay in Hollywood: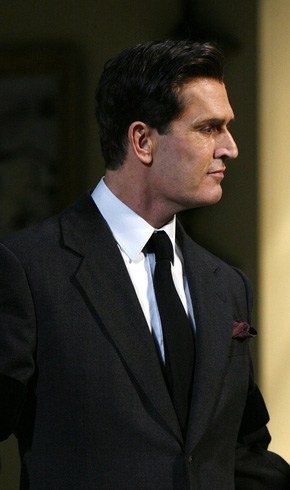 "But the reason my career is so up and down is that I get very little opportunity. There is just very little opportunity for a fag. That's the reality. There isn't. But I have no regrets for being out. None. It's not like I'm missing out on that much. Being an actor in Hollywood is not that great a job anymore. It's become the sluttiest job on the planet. It's not remotely serious. It's not like we're talking about Hollywood in the 1970s that I'm missing out on. If we were talking about '70s Hollywood, then I'd be killing myself because the product back then was so astonishing even though it was still thought of as commercial cinema."
And he wonders why he sits in his room "unfucked" while some "buffoon" like Vanity Fair editor Graydon Carter gets all the sex:
"I was once staying at a hotel and I was in the room directly under his. He is an amazing fuck. And you can quote me on this. The screams coming from the woman were some of the purest sounds of pleasure I'd ever heard. And there I was sitting alone in my room unfucked. Suddenly it all made sense. That messy hair of his that I always thought was buffoon hair was buffoon hair hiding a monster cock. The next day I went down to breakfast and Graydon came in and I thought to myself, well, now I understand why you are always acting so entitled and walking on air even though you're rather fat. It's because grazing the grass between your legs is this appendage of yours. I did rather politely tell him that morning that I thought he was a very good fuck."
Video interviews with the cast of Blithe Spirit, AFTER THE JUMP...
Rupert Everett Unleashed [the daily beast]
(top image robert j saferstein/broadway world)