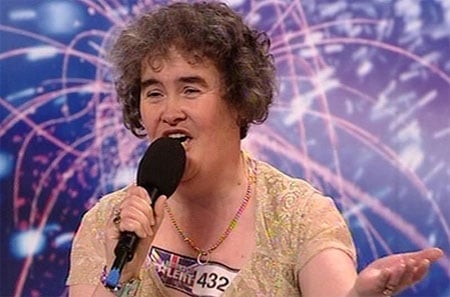 47-year-old spinster Susan Boyle has followed mobile phone salesman Paul Potts and bullied schoolboy Andrew Johnston in achieving overnight fame after her performance of "I Dreamed a Dream" from Les Miserables on the debut episode of the third season of Britain's Got Talent.
Watch it, AFTER THE JUMP...
Previously...
Bullied Boy Gets Revenge on Britain's Got Talent Audition [tr]
Opera Singer Paul Potts Wins Britain's Got Talent [tr]
Boyle told the Mirror what inspired her to audition:
"I was born with a disability and that made me a target for bullies.
I was called names because of my fuzzy hair and because I struggled in
class. I told the teachers, but because it was more verbal
than physical I could never prove anything. But words often hurt more
than cuts and bruises and the scars are still there. I still see the kids I went to school with because we all live in the same area. They're all grown up with children of their own. But look at me now – I've got the last laugh…Mum loved the show and used to tell me I should put my name down and that I'd win it if I did. But I never thought I was good enough. It was only after she died that I plucked up the courage to enter. It
was a very dark time and I suffered depression and anxiety. But out of
the darkness came light. I realised I wanted to make her proud of me
and the only way to do that was to take the risk and enter the show."