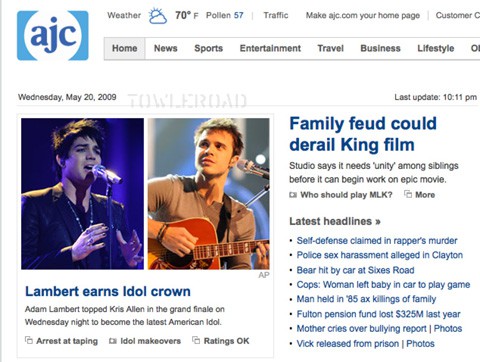 Actually, the real Idol winner, if you look at it from my perspective.
Thanks to reader Kenny for the screenshot of the Atlanta Journal Constitution's "Dewey Defeats Truman" moment. It was actually the fault of the AP, but AJC didn't get the correction until after they had announced Lambert as winner. As I mentioned yesterday, I don't think not winning Idol is going to cause any problems for Lambert at all.
Here's a post-show interview of Lambert from E!
E! Blogs are going to say, 'If he wins it's because he's gay, or if he loses it's because he's gay.' What do you think of that?
LAMBERT: Is that what they're gonna say? [Laughs] Those blogs have a lot of opinions, don't they? [Laughs] I think that Kris won because he's a great artist and I was happy to be a runner-up to that.
In related news, it's always good to see Cyndi Lauper. Her performance with Allison Iraheta, AFTER THE JUMP...