Another excellent column from Frank Rich from this Sunday's New York Times: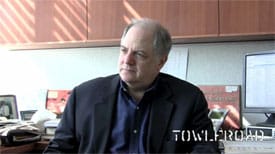 "Obama has long been, as he says, a fierce advocate for gay equality. The Windy City Times has reported that he initially endorsed legalizing same-sex marriage when running for the Illinois State Senate in 1996. The most common rationale for his current passivity is that his plate is too full. But the president has so far shown an impressive inclination both to multitask and to argue passionately for bedrock American principles when he wants to. Relegating fundamental constitutional rights to the bottom of the pile until some to-be-determined future seems like a shell game."
La Cage Aux Democrats [nyt]
If you missed our recent interview with Frank Rich, I've re-posted it, AFTER THE JUMP...