Bernard Madoff was given the maximum sentence possible by a U.S. District Court judge for the multi-billion dollar investment fraud scheme he engineered which collapsed last year, ruining lives and losing the fortunes of those who trusted him.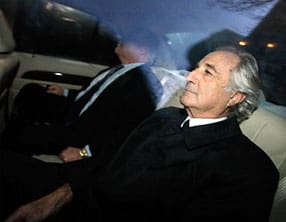 The NYT reports: "In pronouncing the sentence ... Judge Denny Chin turned aside Mr. Madoff's own assertions of remorse and rejected the suggestion from Mr. Madoff's lawyers that there was a sense of "mob vengeance" surrounding calls for a long prison term. 'Objectively speaking, the fraud here was staggering,' the judge said. 'It spanned more than 20 years.' After victims told a packed courtroom that he should be shown no mercy in the case, Mr. Madoff stood up from the defense table to acknowledge the damage he had inflicted and expressed regret. 'I'm responsible for a great deal of suffering and pain, I understand that,' Mr. Madoff told the court. 'I live in a tormented state now, knowing all of the pain and suffering that I've created. I've left a legacy of shame, as some of my victims have pointed out, to my family and my grandchildren.' Addressing his victims seated in the courtroom, he said: 'I will turn and face you. I'm sorry. I know that doesn't help you.'"
Watch a report on the sentencing, AFTER THE JUMP...