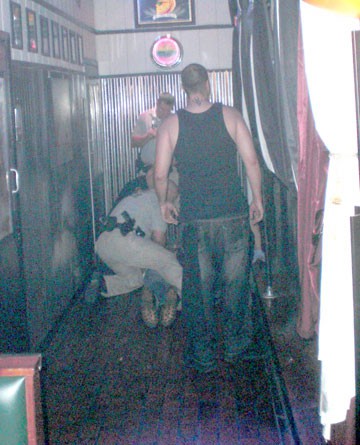 updated

Saturday night, on the 40th anniversary of the Stonewall riots in NYC, police reportedly entered Fort Worth's Rainbow Lounge gay bar and began arresting people with unnecessary force for public intoxication. Multiple first-hand accounts suggest that the arrests were random and unwarranted.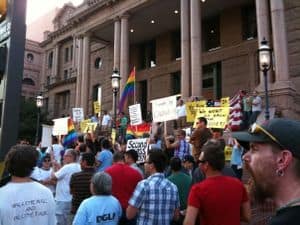 In all, seven were arrested and one remains hospitalized with a brain injury that occurred during the incident: "About 18 hours after officers with the Fort Worth Police Department and agents with the Texas Alcoholic Beverages Commission raided a Fort Worth gay bar, about 150 to 200 people gathered on the steps of the Tarrant County Courthouse in downtown Fort Worth Sunday night, June 28, to protest the raid."
Video of protest, AFTER THE JUMP...
The individual with the brain injury has been identified as Chad Gibson, the Dallas Voice reports: "The statement said that while some officers were outside dealing with the vomiting suspect, another officer inside requested assistance in handling an intoxicated patron who was resisting arrest, and that this person was 'placed on the ground to control and apprehend him.' This person was apparently Chad Gibson (pictured above??), who was knocked unconscious and is now hospitalized with a brain injury. Eyewitnesses to that incident said Gibson, who is 'maybe 160 pounds soaking wet,' did not resist arrest but that he did stumble after the first officer grabbed his arm. Rainbow Lounge owner J.R. Schrock said claims that patrons made sexual advances to the officers and that one patron groped an officer were lies.
The Houston Chronicle, the Star-Telegram, and Dallas Morning News have all filed reports.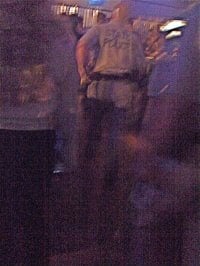 Todd Camp, a former critic for the Star-Telegram, gave a first-hand account to the Dallas Voice: "From what he said, it appears police were there arresting people who appeared to have had too much to drink. Todd said that although he saw no one resisting the police, the officers were quite rough in the way they handled people, and that he saw several people shoved rather violently to the ground and handcuffed (with the plastic zip-tie handcuffs)."
The Dallas Observer writes: "This morning, Michael Piazza, dean of Dallas's Cathedral of Hope, released a statement condemning the event, which has led to two protests planned for tonight -- one at 5 p.m. in front of the bar, and another at 7 p.m. in front of the Tarrant County Courthouse. Said Piazza, "After more than a generation of progress, this action shows that there is still much work to be done to ensure that all Americans enjoy 'equal protection under the law.' It is tragic that lesbian and gay taxpayers are still abused by the very people who are paid by our taxes."
Daily Kos notes, there's now a Facebook page: Rainbow Lounge Raid.
Video of protest, AFTER THE JUMP...