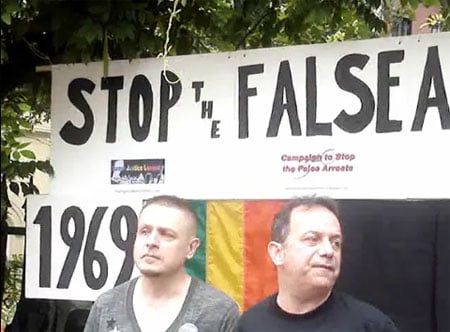 On Saturday afternoon, activist Brendan Fay, NYC Councilwoman Rosie Mendez, Stonewall Veteran Yvonne Ritter, Candidate for City Council Danny Dromm, NYCLU Representative Matt Faiella, NGLTF Representative Cynde Horne, and AVP Local Organizer Jennifer Ramírez, spoke out about the false arrests of gay men by the NYPD at a rally in New York's Sheridan Square.

An earlier statement from the Coalition to Stop the Arrests explains: ""In an overzealous and illegal effort to close down adult video stores in Manhattan, the New York Police Department has been found to be engaging in the false arrests of gay male patrons of these stores, charging them with prostitution. The cops then cite the establishments for condoning illegal activity and the City sues to shut them down as public nuisances. Scores of innocent men have been swept up in these false arrests, documented in the Gay City News."
Watch the demonstration on Saturday, AFTER THE JUMP...