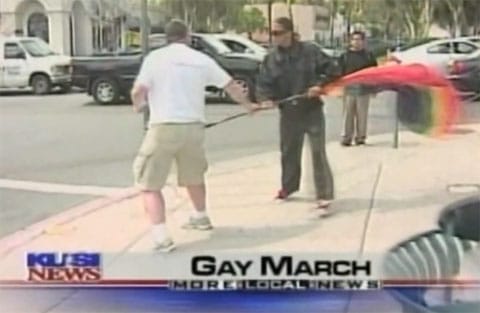 Rex Wocker reports that the Executive Director of San Diego LGBT Pride, Ron DeHarte, was attacked and beaten in the town of Lemon Grove during an 'Equality Torch Relay' which made its way around 18 incorporated towns and cities in San Diego County and finished in downtown San Diego.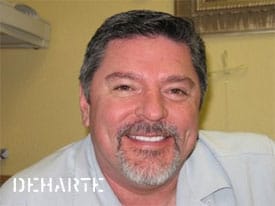 Wockner writes: "In an interview the following day, deHarte said: "I was waiting for the Equality Torch Relay to come by Main and Broadway and standing in front of the famous overly life-size lemon (statue), and with a rainbow flag big as day ... and someone decided to remove me from Lemon Grove. He started whaling on me and tried to take the flag away and made it very clear he didn't think I should be there: 'Get out of here. What do you think you're doing? You need to get the fuck out of here. Get that out of here. There's no place for you here.' All the while, he was grabbing at the rainbow flag and trying to take it away from me. And he was kicking me and slapping. He hit me good a couple of times. ... I got the side of his fist the first time he hit me, then I think he got my lower jaw on another time. He kicked me a few times. I wasn't bleeding or anything. It certainly hurt. I certainly had soreness as the day went on, and this morning when I woke up, I realized my upper lip was swollen and the inside of my cheek was cut up." (deHarte photo by rex wockner)
The attack ended when the assailant realized he was on video.
The San Diego Union Tribune reports: "In a twist on protesting, organizers mobilized about 140 residents in far-flung corners of the county to walk their own streets carrying a 'torch' as a symbol of the cause. The torch's flames were actually pieces of shaped metal. An attack on the event organizer in Lemon Grove, which resulted in the arrest of an Oceanside man, was the only interruption of what was a relatively peaceful event."
Video of the last moments of the attack, AFTER THE JUMP...
Head of San Diego Pride Attacked, Beaten [wockner]
Carrying the Torch for Gay Marriage [san diego union tribune]