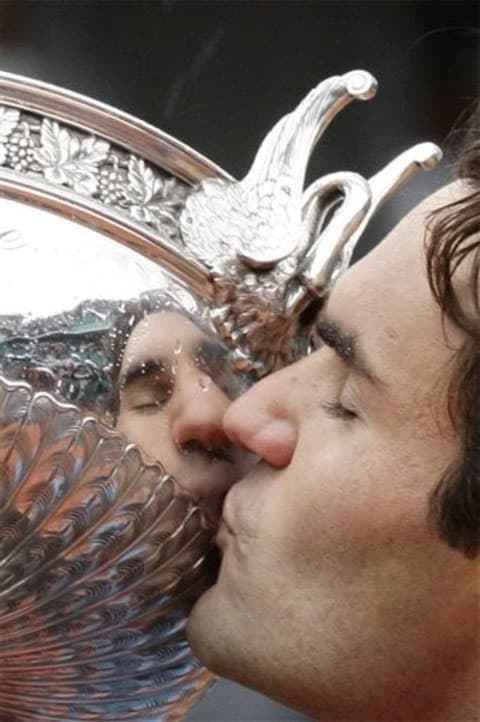 Roger Federer won the French Open yesterday, beating Robin Soderling 6-1 7-6 (7-1) 6-4 and matched Pete Sampras' record of 14 Grand Slam titles.
Sampras graciously acknowledged Federer's achievement: "What he's done over the past five years has never, ever been done – and probably will never, ever happen again. Regardless if he won there or not, he goes down as the greatest ever. This just confirms it. I'm obviously happy for Roger. If there's anyone that deserves it,it's Roger. He's come so close. Now that he's won in Paris, I think it just more solidifies hisplace in history as the greatest player that played the game, in myopinion. I'm a huge Laver fan, and he had a few years in therewhere he didn't have an opportunity to win majors. But you can'tcompare the eras, and in this era, the competition is much more fiercethan Rod's."
At the beginning of the second set a man leapt over the barriers waving a Barcelona flag and attempted to place a cap on Federer's head. He was chased and quickly apprehended, but not before he got to the champion.
Video of match point and the intruder, AFTER THE JUMP…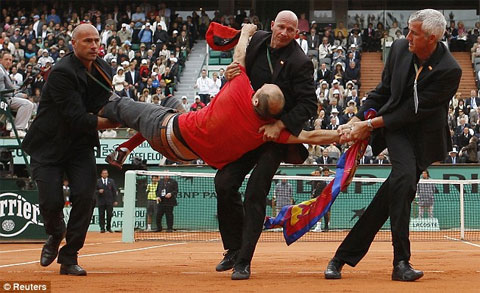 Match point:
And the on-court intruder: