Openly gay candidate and former news broadcaster Charles Pugh received the most votes of any candidate in the Detroit City Council primary, from a field of more than 160 candidates, according to the Victory Fund.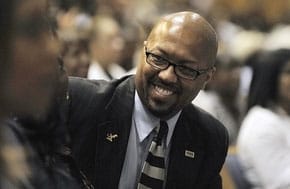 "Pugh was one of 18 candidates to advance to the Nov. 3 primary for the nine-member council. His early success, some say, could thrust the city into the national spotlight in a very different way than a parade of scandals had over the last four years. 'This city has had the worst PR of any city in the world and now this will be very good news,' said Ferndale Mayor Craig Covey, who is also gay. 'Detroit is going to be seen as a place that can be tolerant and progressive.' In his campaign literature, during candidate rallies and in debates, there was no reference to Pugh's sexual orientation. Yet on radio shows or television segments, he has talked candidly about his romantic relationships."
Pugh won with 8.9 percent of the vote. A short video that shows some of the charisma that is propelling Pugh's political career, AFTER THE JUMP...