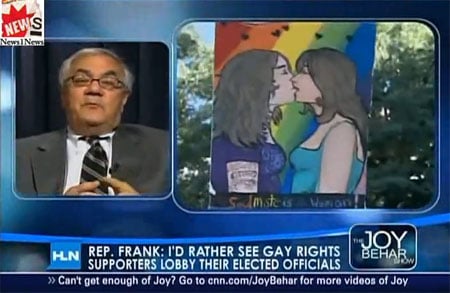 Joy Behar asked Barney Frank last night about health care reform and  about his remarks regarding last weekend's National Equality March. Frank told Michelangelo Signorile before the March: "Barack Obama doesn't need any pressure on these things. Secondly, if you do want to pressure Congress, I don't know what standing on the Mall on a weekend when no member of Congress is in town is going to do. All that's going to pressure is the grass."
Says Frank to Behar: "I am afraid that some people will come to Washington and they will march and think they've done it. That's why I said what I did. Marching isn't a negative thing but to the extent that people think that having marched they've done something effective they wouldn't do something that is effective."
Watch, AFTER THE JUMP...