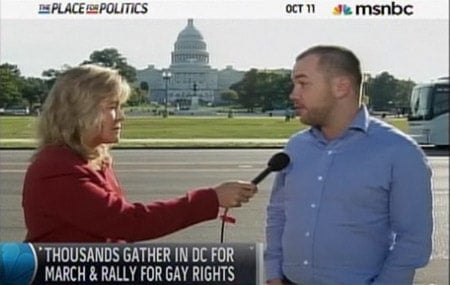 Towleroad's Corey Johnson spoke with MSNBC about the National Equality March on Sunday morning, as well as the New York Times:
"I think this march represents the passing of the torch," said Corey Johnson, 27, an activist and blogger for the gay-themed Web site Towleroad.com. "The points of power are no longer in the halls of Washington or large metropolitan areas. It's decentralized now. You have young activists and gay people from all walks of life converging on Washington not because a national organization told them to, but because they feel the time is now."
I'd like to personally thank Corey for the work he did this weekend. Watch his interview with MSNBC, AFTER THE JUMP...
Visit msnbc.com for Breaking News, World News, and News about the Economy