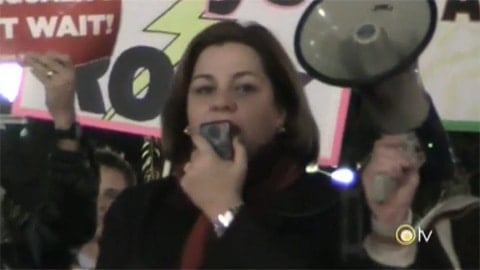 New Yorkers held a rally in Union Square last night opposing the anti-gay vote in Maine on Tuesday, and looking ahead to next week, when Governor David Paterson has promised to call a special session of the state senate.
Watch OurSceneTV's report on the rally, AFTER THE JUMP...
According to Gay City News, both Empire State Pride Agenda executive director Alan van Capelle and State Senator Tom Duane are still confident about a vote on marriage equality:
"Alan Van Capelle, the executive director of the Empire State Pride Agenda (ESPA), the state's LGBT lobby group, and out gay Chelsea Democratic Senator Thomas K. Duane, the measure's lead sponsor, both reiterated their confidence in the wake of an election in which a Republican marriage equality supporter was forced from an upstate congressional race and voters in Maine narrowly opted to repeal the gay marriage law there. 'Based on my conversations with senators, they are planning on being in Albany next week,' said Van Capelle. 'That said, the governor is still required to issue an extraordinary session calendar. Our community should rest assured we have full commitment from the governor that the marriage equality bill will be on the very first calendar.' ... In a statement issued late in the day on November 4, Duane said, 'I have so much confidence that New York will soon be the next state to enact marriage equality. I strongly believe that my colleagues from both sides of the aisle will step up and do the right thing.' Since the spring, Duane has consistently said he has the votes –– among them, as yet unnamed Republicans –– to ensure passage of the marriage bill."
More at Gay City News on the impact of Maine and the NY 23rd  district Congressional race.

Watch OurSceneTV's report on the NYC rally, AFTER THE JUMP...