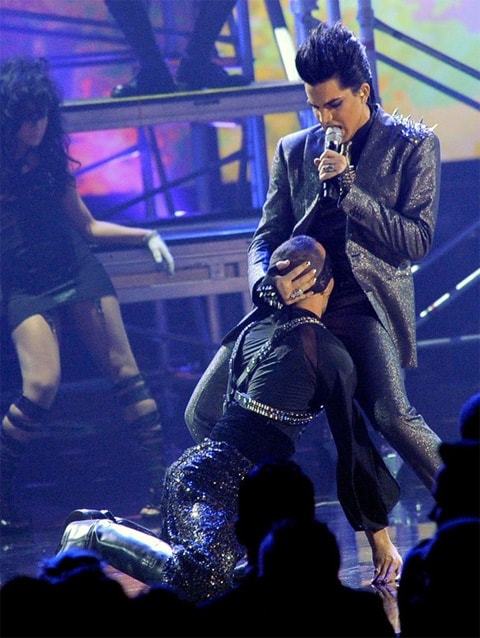 Adam Lambert set out to shock at the American Music Awards last night with a performance that was more "Let's Give 'Em Something to Talk About" than "For Your Entertainment", keeping the cameramen on their toes while bouncing between dancers and band members to perform a mock fellatio on the former, and a spit-swapping exercise on the latter. Lambert's pitchy voice certainly played second fiddle to the stunts.
Lambert told CNN the man-on-man kiss happened "in the moment".
Said Lambert: "Part of what I love about being a live performer is that sometimes you just are in the moment and sometimes things just happen...Adrenaline is a crazy, crazy, crazy feeling. Some of the things I love most about performing is when you're up there and all of the sudden you just have these feelings, this rush that comes over you...I do feel like there's a bit of a double standard in the entertainment community, on television, on radio. I feel like women performers have been pushing the envelope, especially, for the past 20 years. And all of the sudden a male does it and everybody goes 'Oh, we can't show that on TV.' For me, that's a form of discrimination and a double standard. And that's too bad."
Watch the performance and CNN interview, AFTER THE JUMP...