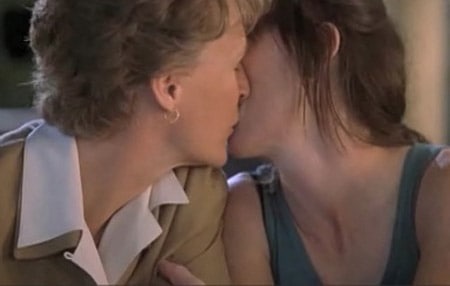 In a Daily Beast blog post about her 13 favorite movie roles, Glenn Close says that her role as former Washington National Guard Colonel Margarethe Cammermeyer, who sued after being discharged for revealing that she was a lesbian, was "revelatory":
"That's one of my favorite things I've ever done, because Margarethe Cammermeyer was around during the shoot. She was an exacting soldier, very strict about uniform, and how you salute—everything. It was tragic that she was the one kicked out of the Army eventually, because she was homosexual. But the thing that stayed with me—I've known many, many gay people, and they're some of my best friends. We all went through the AIDS scourge, I've lost many friends, and I've always been highly sympathetic to the plights of gays, what they've had to deal with. But the scene at the end, although I was very open-minded and supportive, when Judy Davis and I had to kiss at the end, I really felt that for 30 seconds, maybe a minute, what it really, really felt like to be attracted to my own gender. It was kind of revelatory for me, a real frisson moment. I'll never forget it."
Watch the clip, AFTER THE JUMP...