The Williams Institute at the UCLA School of Law has released a new study (PDF) that shows approximately 66.000 gay, lesbian, and bisexual people currently serve in the U.S. military. The study also details the costs associated with the "Don't Ask, Don't Tell" policy.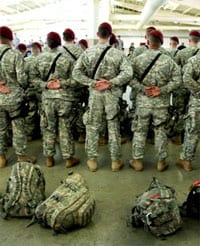 Here are the key findings: "Approximately 13,000 LGB people are serving on active duty (comprising 0.9% of all active duty personnel) while nearly 53,000 are serving in the guard and reserve forces (3.4%).
While women comprise only about 14% of active duty personnel, they comprise more than 43% of LGB men and women serving on active duty.
Lifting DADT restrictions could attract an estimated 36,700 men and women to active duty service and 12,000 more individuals to the guard and reserve.
Since its inception in 1994, the 'Don't Ask/Don't Tell' policy has cost the military between $290 million and more than a half a billion dollars.
The military spends an estimated $22,000 to $43,000 per person to replace those discharged under DADT."
The Washington Post notes that this new count is a very slight increase: "Its authors used a variety of statistical methods to arrive at the
estimate, drawing in part on the Census Bureau's 2008 American Community
Survey and the 2000 Census, in which some people identified themselves
as gay, lesbian or bisexual and as serving in the military. A similar
2004 study, widely quoted by gay rights advocates and supportive
lawmakers, estimated that roughly 65,000 gay people were serving in the
military."
Obama is expected to make some mention of the military gay ban in his State of the Union speech this evening at 9 pm EST.