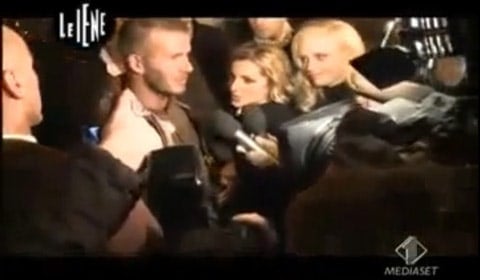 David Beckham was doing an interview outside a Milan hotel when a TV reporter grabbed his groin and gave it a squeeze, the Telegraph reports: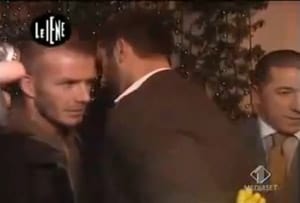 "The stunt was a 'test' to see whether the football star measured up to his photo in Armani billboards, in which he shows off his impressive physique in a pair of tight-fitting underpants. He has since been replaced in the Armani campaign by Portuguese soccer star Cristiano Ronaldo. Beckham looked shocked and immediately backed away after being touched by the blonde-haired TV reporter, a star of the satirical show Le Iene (The Hyenas). As security guards closed ranks around the 34-year-old midfielder, Miss Di Cioccio was chased down the street yelling 'E piccolo, Beckham' ('Beckham is small'), while being filmed by the show's cameraman. Beckham climbed into a black car but she ran around to the driver's seat in which he was sitting, shouting: 'You've taken us for a ride! How could you? David!'"
Don't people in Italy get arrested for assault for incidents like this?
Watch, AFTER THE JUMP...