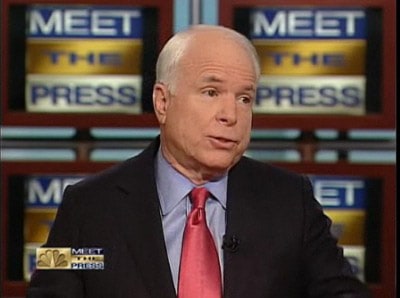 Including himself.
On today's Meet the Press, David Gregory asked Senator John McCain why Admiral Mullen's statements aren't enough to satisfy his 2006 statement that if military leaders say the policy should be changed, that's what should happen.
McCain: "As I said back then, we need to have a careful examination. And Admiral Mullen was, as quote, speaking personally. Just this week the commandant of the Marine Corps said that he did not want DADT repealed. There are many in the military who do not want to. We are going to go through, hopefully, a year-long study that will, hopefully, also, have the feelings of the men and women who are serving."
Watch, AFTER THE JUMP...
Visit msnbc.com for breaking news, world news, and news about the economy
Visit msnbc.com for breaking news, world news, and news about the economy