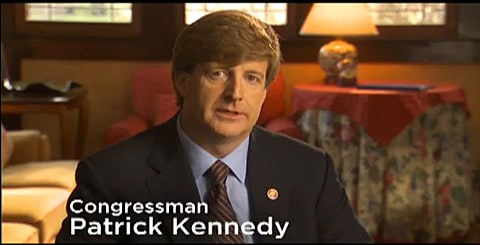 Congressman Patrick Kennedy (D-RI) announced Friday he won't be seeking re-election in a two-minute web video that highlighted the personal difficulties he's faced recently and said he'd be working for causes fighting depression, addiction autism, and post-traumatic stress disorder going forward.
The LGBT community has lost an ally.
DC Agenda reports: "In 1996, he was among 67 House members to vote against the Defense of Marriage Act. He also voted against the Federal Marriage Amendment in 2004 and 2006. Kennedy has co-sponsored hate crimes protections bills since at least 2001, and voted in favor of passing the legislation in 2007 and 2009. Kennedy has also co-sponsored versions of the Employment Non-Discrimination Act since his first year in Congress and voted for the bill in 2007. The lawmaker has co-sponsored numerous other pro-LGBT bills, including the Uniting American Families Act and the Domestic Partnership Benefits & Obligations Act as well as legislation that would repeal DOMA and "Don't Ask, Don't Tell."...Kennedy voiced his support for marriage rights for same-sex couples in a statement when he announced in 2008 he would be a founding member of the LGBT Equality Caucus."
Down in Washington, the Kennedys have now, as they say, left the building.
Watch his message, AFTER THE JUMP...