Earlier this week
I posted about an anti-homophobia video produced by the Football Association set to premiere at Wembley Stadium this week
which was pulled at the last minute, inspiring criticism from gay rights groups over the FA's commitment to fight anti-gay behavior at matches.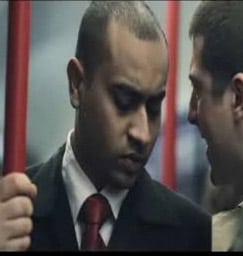 The campaign, which was in development for two years, features a football fan on his way to his office, hurling anti-gay slurs in the workplace and on the street, and asks, 'if that kind of language is not permitted in those situations, why should it be permitted at a football match?'
The decision has also sparked a debate within the gay community about whether the shocking video was the right strategy. Tatchell agreed that Ogilvy's approach was effective but said he would have preferred a more "uplifting, MTV-style" video featuring high-profile players and criticised the FA for not doing more to sign them up.
But John Ameachi, the gay former NBA basketball player, was scathing about the clip's content and what it said about the attitudes at the top of English football.
"Football can't shock fans out of being bigots – this process requires a highly strategic, multi-modal approach, not to mention a significant investment," he wrote on his blog, also criticising the "cheap" £10,000 budget. "Ninety seconds of bad language that will only be seen on the internet is not a solution to the problems faced by football and the concept of trying to create a 'viral video' to combat homophobia in football feels crass at best."
Watch the spot as well as a news report on the controversy, AFTER THE JUMP...
(clip via afterelton)
And here's a UK news report: