Faisal Shahzad, a 30-year-old Connecticut man, was arrested last night trying to board a plane to Dubai, the NYDN reports: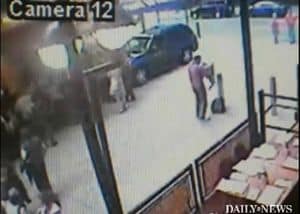 "'Mr. Shahzad, an American citizen, was taken into custody at JFK Airport in New York as he attempted to board a flight to Dubai,' Attorney General Eric Holder said in an early-morning news conference. 'This investigation is ongoing, as are our attempts to gather useful intelligence, and we continue to pursue a number of leads,' the Queens-born Holder said. 'But it's clear that the intent behind this terrorist act was to kill Americans,' he told reporters. The Customs and Border Protection agents at Terminal 4 had Shahzad's name and photo, a source told the Daily News. 'He was looking to get out of the country,' a source told The News. Shahzad, 30, of Connecticut, bought his mobile weapon of mass destruction on craigslist - and paid a 19-year-old college student $1,300 cash for it. He is believed to have links to international terrorists and was already under surveillance for two days when the feds moved in."
ABC7 News reports, AFTER THE JUMP...