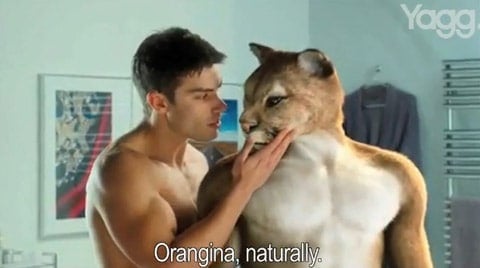 Orangina has produced an ad for France that features a buff young man, and (literally) a cou-gay.
"Famous for its original advertisements, the beverage Orangina has included an insinuating gay commercial in their newest ad campaign. However, the video has been judged 'too polemic' and therefore, according to the NoSite Agency, won't be shown on television. The ad forms part of a campaign that features different human-like animals using Orangina for unusual satiric purposes, such as mopping the floor, fighting bad breath or hair conditioning...NoSite Agency (online strategy counseling and PR), in charge of buzzing this campaign, has drawn our attention to a new video, where the beverage is used as an after-shave by a muscled puma in front of his mirror. Nothing particularly gay until the closing scene, where the puma's well-shaved pelt is caressed by his… male friend
Watch, AFTER THE JUMP...