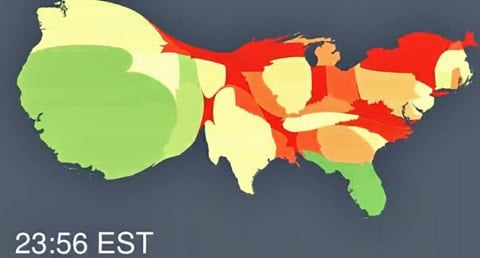 A group of researchers has attempted to visualize the mood of the nation over a 24-hour period using a cartogram mash-up of tweets and population data in Pulse of the Nation.
"Not only did they analyze the sentiments we collectively expressed in 300 million tweets over three years against a scholarly word list; these researchers also mashed up that data with information from the U.S. Census Bureau, the Google Maps API and more. What they ended up with was a fascinating visualization showing the pulse of our nation, our very moods as they fluctuate over time. The researchers have put this information into density-preserving cartograms, maps that take the volume of tweets into account when representing the land area. In other words, in areas where there are more tweets, those spots on the map will appear larger than they do in real life."
Check out their time-lapse visualization over a 1 day period, cycled twice, AFTER THE JUMP...