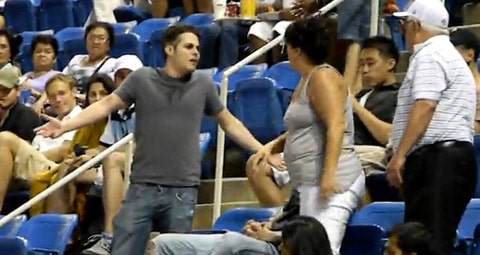 Here's something you don't see very often — a brawl breaking out during a tennis match.
"Up there, in fact, was a male fan – whether he was Serbian the authorities did not say — who was cursing and acting obnoxiously, according to the police. Two spectators who were sitting nearby, a woman in her 40s and her septuagenarian father, confronted the man, who apparently did not appreciate their feedback, the police said. Shortly thereafter, the man confronted the woman, and she slapped him in the face. But the man was apparently undeterred; he then sat down next to the woman and continued to curse at her, which prompted the woman's father to grab him, the police said. The two men fell over two rows of seats as they tussled, and the entire thing was captured on video by another spectator."
Watch the clips (first one includes the slap), AFTER THE JUMP...