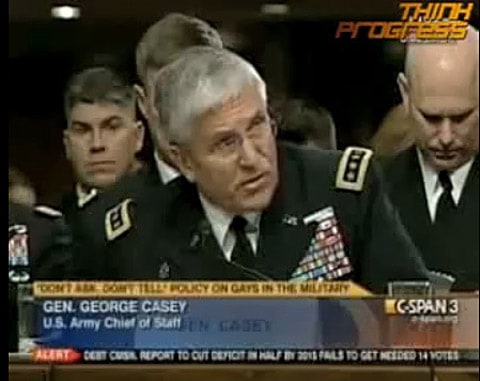 This morning the Service Chiefs testified in hearings regarding the Pentagon's 'Don't Ask, Don't Tell' report before the Senate Armed Services Committee.
A key element of discussion was the issue of timing, whether repealing the law now would be too swift.
Writes Igor Volsky at Wonk Room: "Picking up on this argument, Sen. Mark Udall (D-CO) said that the amendment included in the National Defense Authorization Act (NDAA) offered the perfect compromise: the certification process provides the military with the flexibility not to implement repeal right away, while undermining the possibility that the courts would force the Armed Forces to act quickly. Every Service Chief agreed that they were comfortable that Secretary Gates would take their concerns into consideration before certifying repeal and admitted that they could effectively implement the policy change."
Watch, AFTER THE JUMP...
The NYT has more on the statements from the Service Chiefs.