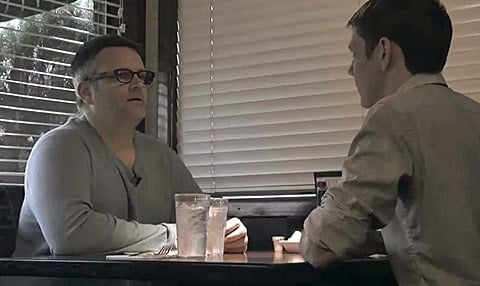 Nathan Manske and Marquise Lee are halfway though a 3 month trip around the United States collecting stories for their I'm From Driftwood site. We're finally ready to start catching up with some of the stories collected over the first half of the trip along with some of the insight into what they're seeing now. 

It was early Sunday morning in Portland, Oregan, and Marquise (videographer extraordinaire) and I arrived to the location where "gay mayor" Sam Adams agreed to meet us and share a story. We were almost out of gas, running late because the Portland marathon blocked traffic, soaked from the non-stop rain and stressed out from all of the above. We saw a black SUV with two police officers inside, on the otherwise empty street corner. "This must be his entourage," I thought. I approached and made eye contact with one of them and smiled. The cop rolled down his window. "Um, hi…I'm here to, uh, meet the mayor," I said. He looked at me and cocked an eyebrow. "Okay. I'm hear to watch the marathon." Oops.
Minutes later, the mayor drives up in his own Prius, with no entourage to be found, and we followed him to a local diner to get his story. I was expecting to hear about how being gay affected his campaign, how he dealt with and overcame the challenges or something that would make him seem like he could handle anything. You know, mayoral stuff. Instead, he shared an intimate and revealing story that made him seem surprisingly vulnerable, but also refreshingly real.
In general, I typically don't want too many coming out stories on IFD. People know them and there are so many more interesting aspects to being LGBT than that one moment of coming out. And sure enough, Mayor Adams shared a coming out story. But it wasn't the teenager-coming-out-to-his-parents-and-there-were-tears story. This one took place at the workplace and it happened less than a decade ago. It stood out to me because it shows that coming out isn't a one time thing. It's a lifelong process. For every new employer, every new friend, every new co-worker, there must be an "I'm gay" moment. Even if you're a mayor-to-be.
Watch Portland Mayor Sam Adams' story, AFTER THE JUMP…
Previously…
A Survivor's Account of an Unbelievable Hell Called Home [tr]