Here's an update to my earlier post.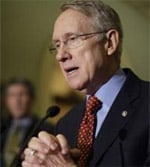 According to Servicemembers Legal Defense Network, Majority Leader Harry Reid indicated moments ago on the Senate floor that a vote on the Defense bill and 'DADT' is likely tonight.
"And I'm likely going to move to my motion to reconsider on the Defense Authorization Act this evening. Allowing, as I will indicate at that time, time for amendments to that piece of legislation."
SLDN released a statement:
"We expect Senate Majority Leader Harry Reid will try again today to take up the defense bill that includes repeal.  Reid is actively reaching out to his Republican colleagues to reach an agreement on how to proceed.  We also know from Hill sources the President is actively working today's vote with key Republican senators.  Today the Senate has an opportunity to make the nation's defense funding and our service members a higher priority than tax cuts for millionaires," said Aubrey Sarvis, U.S. Army veteran and executive director for Servicemembers Legal Defense Network."
SLDN notes a number of senators they're still watching:
Susan Collins (R-ME); --Olympia Snowe (R-ME); --Richard Lugar (R-IN); --Judd Gregg (R-NH); --Scott Brown (R-MA); --George Voinovich (R-OH); --Kit Bond (R-MO); --Lisa Murkowski (R-AK); --Mark Kirk (R-IL);
You may phone the United States Capitol switchboard at (202) 224-3121. A switchboard operator will connect you directly with the Senate office you request.
Watch Harry Reid speak on the Senate floor, AFTER THE JUMP...