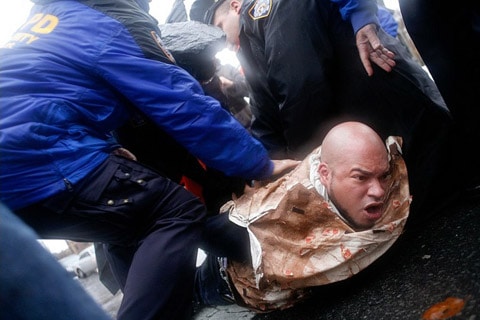 Nine people were arrested wearing giant bagel outfits this morning outside NYC Mayor Michael Bloomberg's World AIDS Day Bagel Breakfast at the Brooklyn Library, Housing Works reports: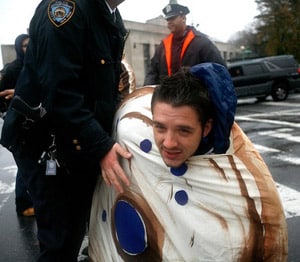 The activists chained themselves together and blocked traffic at Grand Army Plaza to draw attention to Bloomberg's relentless attacks on AIDS housing services for the poor. The brave bagels were cheered on by dozens of others, many wearing bagel, banana, coffee cup and other breakfast-related costumes.
Activists inside the breakfast also disrupted the mayor's World AIDS Day speech and distributed Bagel Boycott Fliers.
AIDS activists are fed up with Bloomberg, who each December holds his World AIDS Day Bagel Breakfast, and then each January proposes devastating cuts to AIDS services, such as housing and nutrition, for low-income people with HIV. Most recently, Bloomberg was influential in convincing David Paterson to veto the 30 percent rent cap bill legislation which would have provided housing security to 10,000 low-income New Yorkers living with AIDS.
Watch video of the protest and arrests, AFTER THE JUMP...
Flickr slideshow.
World AIDS Day Bloomberg Bagel Boycott Protest from Housing Works on Vimeo.