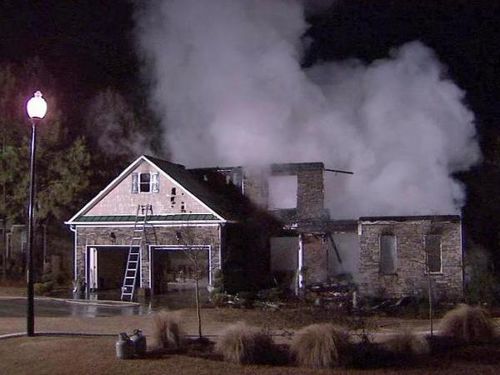 The house of a gay couple in Clayton, North Carolina has burned to the ground in an apparent arson crime. The couple have reportedly been victims of harassment from certain members of the community for more than a year.
Fire crews were called to the house on New Castle Ct., off Guy Road, around 1:30 a.m. Friday. The couple was out of town when the fire was set according to a neighbor and investigators. The couple was not at home when the fire started and are now staying in a motel. They asked WRAL not to reveal their identity out of fear for their safety.

Johnston County Sheriff, Steve Bizzell, confirmed to the station that the fire is being investigated as an arson. Bizzell said this fire does not appear to be related to a string of other suspicious fires in the area.

A neighbor, who asked to remain anonymous for fear of backlash against her, said there have been at least three separate incidents of anti-gay harassment at the couple's home. She told WRAL, a note with derogatory language was left in the mailbox, an anti-gay slur was written on the house with marker and the tires of a car parked in the garage were slashed, the neighbor said.

Sheriff Bizzell said that the his office was aware of two of those incidents, but would not say which two. He would not confirm whether they are related to the arson investigation. Bizzell said there are no suspects at this time. No other information was released.

Another neighbor in the subdivision said he feels sorry for the male couple because they lost everything. He and others in the neighborhood believe it was a hate crime.
Just awful. The couple, now homeless, is staying at a motel provided to them by the Red Cross.
Since the Red Cross is the organization that is currently aiding the couple, it might be best to contact the chapter in Raligh, NC if you wish to help them out. P: 919-231-1602, E: [email protected]
Update: "Authorities are searching for a white Chevrolet S-10 crew-cab truck towing a small trailer, with a John Deere LA115 riding lawn mower and Troy-Built push mower. Investigators believe the mowers were stolen from the home."
Watch a local news report about the arson fire, AFTER THE JUMP.