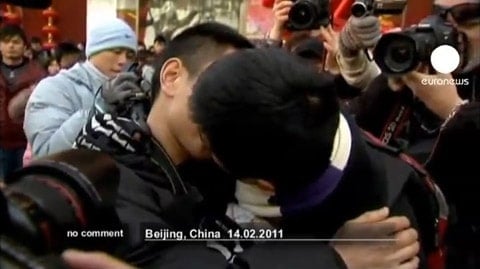 Valentine's Day in China.
"Two days ago, on Valentine's Day, ballsy gay and lesbian couples in Beijing decided to gatecrash a kissing competition held by the New World Shopping Mall to raise the visibility of China's LGBT community and to drum up support for same-sex marriage. Just moments before the competition was due to start, however, organisers announced that the kissing competition would be cancelled because there weren't, erm, enough contestants. Undeterred, the gay and lesbian couples decided they would stage their own kiss-in anyway, and they did so just outside the mall where the competition was supposed to be held, attracting a huge crowd of bewildered passers-by."
Watch, AFTER THE JUMP...