Former RNC Chair Ken Mehlman is in Albany, New York today lobbying lawmakers on marriage equality, the New York Daily News reports: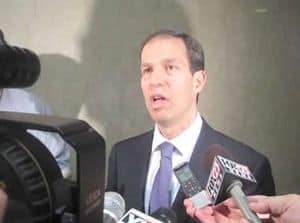 Mehlman said he told the GOP senators that legalizing gay marriage is consistent with the Republican "interests and also the Republican principles."
 
He said it's clear from polls there's been a big shift toward voter support of same-sex marriage.
 
"In terms of Republican values and principles, when you think about it, a party that stands for freedom, a party that wants to promote more families and family values, and a party that tries to live by The Golden Rule, it seems to be me for all those reasons ought to be supportive of this issue," Mehlman said.
Added Mehlman, according to Politics on the Hudson: "I'm hopeful and confident from the discussions I've had, and others have had, that there will be an up-or-down vote and that the vote will be positive because, again, I think that as people as look at this issue, they recognize that it is consistent with what their constituents want, most importantly, and second it's consistent with the values they espouse and certainly many of the Republican stand for."
Mehlman, who was also the architect of the 2004 Bush reelection campaign and worked actively at that time to push anti-gay marriage initiatives in several states, came out of the closet publicly last August. Since that time he has remained largely under the radar working behind-the-scenes to generate funds toward pro-equality initiatives. Last September, he co-hosted a fundraiser for the American Foundation for Equal Rights, the group challenging Proposition 8 at the federal level. 
Watch Mehlman speak to reporters, AFTER THE JUMP...