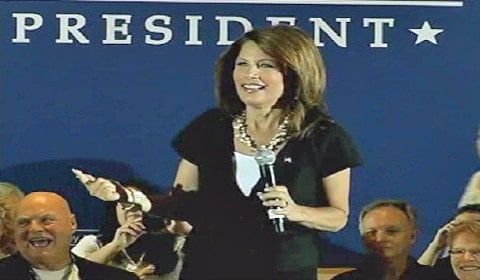 At campaign stops in Florida, Michele Bachmann said that the recent east coast earthquake and Hurricane Irene are God's punishment to politicians in Washington who aren't listening.
"I don't know how much God has to do to get the attention of the politicians. We've had an earthquake; we've had a hurricane. He said, 'Are you going to start listening to me here?' Listen to the American people because the American people are roaring right now. They know government is on a morbid obesity diet and we've got to rein in the spending."
At another stop in Orlando, Bachmann said:
Washington D.C., you'd think by now they'd get the message. An earthquake. A hurricane. Are you listening? The American people have done everything they can. Now it's time for an act of God and we're getting it. (clip)
Watch Bachmann's Sarasota remarks, AFTER THE JUMP...