NYC Mayor Michael Bloomberg wants out lesbian City Council Speaker Christine Quinn to succeed him in office, the NYT reports: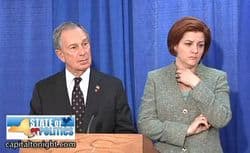 Mr. Bloomberg, an independent, has refrained from specifying an heir publicly, since he seems to prefer to keep Ms. Quinn, a Democrat, and other prospective candidates as compliant as possible in the two years remaining before the next mayoral election.
Jamie McShane, a spokesman for Ms. Quinn, said, "She has never asked for nor has he offered his support."
A spokesman for Mr. Bloomberg said the same.
Still, the mayor has made it plain in private conversations with other politicians and civic leaders that he prefers the City Council speaker.
Mayor Making It No Secret: He'll Endorse Quinn in 2013 [nyt]