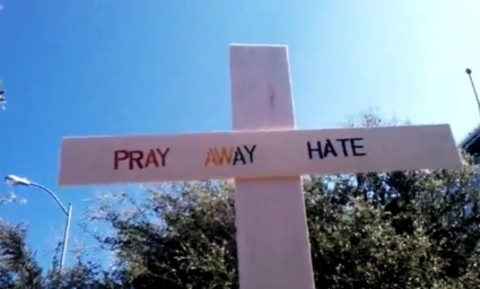 In a move widely seen as the first step toward a presidential bid, Texas Governor
Rick Perry
today brought together an estimated 20,000 Evangelicals for a prayer event called
"The Response."
Currently happening at Houston's Reliant Stadium, the Response features a slew of anti-gay groups and preachers, including the American Family Association and the Family Research Council.
Rather than standing by and letting Governor Perry's allies preach conservative homophobia,
GetEqual Texas
headed down to Reliant Stadium to protest the Evangelical event, marching and holding a mock funeral to raise awareness of anti-LGBT violence.
"Governor Perry called for prayer to confront the crisis faced by our nation. Sadly, those sponsoring the event are the cause of the crisis that lesbian, gay, bisexual, and transgender Americans and their families are facing", Jay Morris, GetEQUAL Texas State Lead Organizer, said in a
press release
. "Religion and prayer should not be used as tools for bigotry and inequality."
Another GetEqual activist, John Dean Domingue, the group's South Plains Coordinator, said in the same release that he's inspired by his own religious background: "Growing up in a loving Christian family, I was always taught that prayer means asking for protection, healing, and love. This event supports the use of prayer as a tool for violence — something every human being is morally obligated to refute and reject."
Watch video of the group's funeral procession honoring LGBT people who have lost their lives to homophobia and transphobia,
AFTER THE JUMP
...
Video via GetEqual's Facebook: