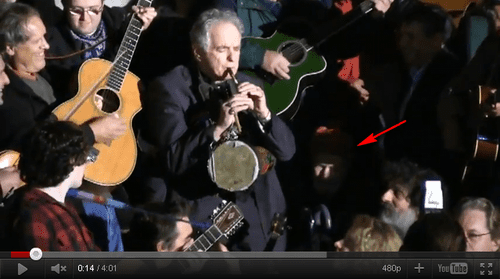 Friday night, a bunch of OWS folks marched uptown to Columbus Circle to make a little joyful noise at the southwestern edge of Central Park. Gawker and others reported yesterday that the below vid features Pete Seeger and Arlo Guthrie joining in the jammage, but I didn't believe it -- I watched the thing twice, and all I could make out was Arlo. But Seeger is there! 92 years old, grooving gently, sitting just beneath the elbow of composer David Amram, with whom he'd gigged earlier in the evening. 
Arlo Guthrie's off to the right, looking like a benevolent walrus.
Watch AFTER THE JUMP...