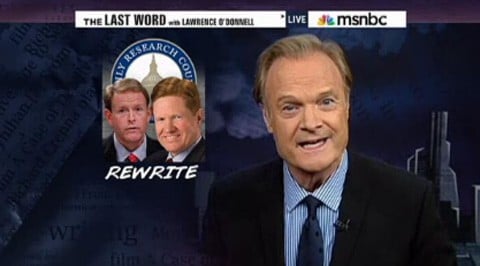 On Saturday, Brandon posted about the Family Research Council's jaw-dropping award to deadbeat dad Congressman Joe Walsh (R., IL), and last night Lawrence O'Donnell called them out as well, in a delicious rant against FRC, Tony Perkins, and Peter Sprigg and their obsession with gay sex.
Said O'Donnell: "They have now publicly announced that yes, this whole FRC thing is a complete joke. They chose to do that at the end of last week by giving an award to the most famous deadbeat dad in America."
Watch, AFTER THE JUMP...
Visit msnbc.com for breaking news, world news, and news about the economy