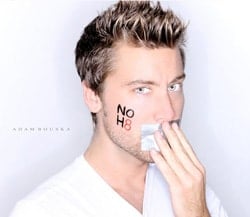 Last night, Lance Bass tweeted out a disturbing image of a series of Facebook comments directed at him by a user named Ted Fau. The remarks, which contain numberous anti-gay slurs, also include threats of violence, such as "I want to stab you and play around with your blood."
The user asks Bass whether he "[has] HIV yet" and asks Bass if he knows any gangsters. Adds the user: "cause I do...they have a hit on you."
Wrote Bass in his tweet: "If I go missing -this guy did it- Jeez! Sad to know many LGBT kids deal w this irrational hatred daily."
See the screenshot of the graphic threats, AFTER THE JUMP...