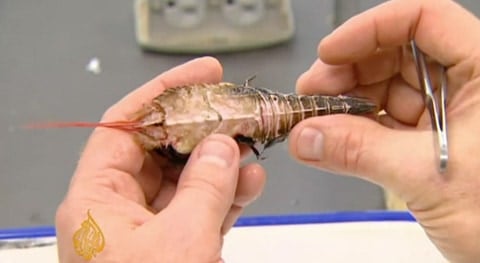 The April 2010 explosion of the Deepwater Horizon oil rig is suspect in a mass decline of marine life in the Gulf of Mexico and a wide variety of species which are turning up with sores and deformities, Al Jazeera reports:
Gulf of Mexico fishermen, scientists and seafood processors have told Al Jazeera they are finding disturbing numbers of mutated shrimp, crab and fish that they believe are deformed by chemicals released during BP's 2010 oil disaster.

Along with collapsing fisheries, signs of malignant impact on the regional ecosystem are ominous: horribly mutated shrimp, fish with oozing sores, underdeveloped blue crabs lacking claws, eyeless crabs and shrimp - and interviewees' fingers point towards BP's oil pollution disaster as being the cause.
Watch, AFTER THE JUMP...