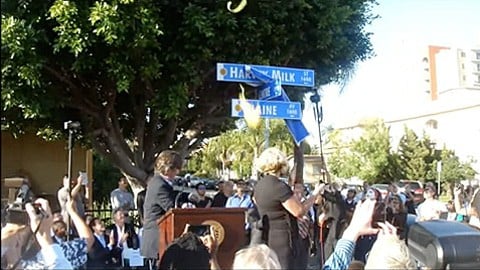 Couldn't make it to San Diego's Hillcrest neighborhood last night for the ceremonial unveiling of the first street in the nation named for slain gay civil rights leader Harvey Milk?
We've got it for you, AFTER THE JUMP...
Stuart Milk was visibly moved by San Diegans' commitment to the goal of making their city the first to successfully rename a street in his uncle's honor, noting that his uncle first came to San Diego as a lieutenant in the U.S. Navy. In one of the lighter moment of the ceremony, Milk, himself a gay man, said his uncle also "… fell in love with the beautiful boys here."
But there were solemn moments during the dedication.
"Harvey always said, 'you've got to give 'em hope," Stuart Milk told the crowd, adding that his famous uncle urged lesbian, gay, bisexual and transgender people as well as their allies to fight hate with hope. '"You are the hope Harvey was talking about," he said. "More than any street, school or ship that might be named after him, it was you that he took a bullet for."
Nicole Murray Ramirez, a nationally prominent LGBT activist and columnist for LGBT Weekly, likened Harvey Milk to Cesar Estrada Chavez, Robert Fitzgerald Kennedy, and Martin Luther King, all but one (Chavez) of whom were killed by assassins' bullets.