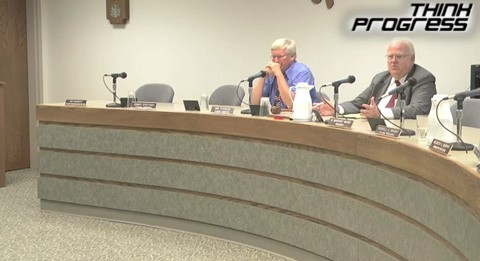 At a town hall meeting on Sunday, Congressman Jim Sensenbrenner (R-WI), "one of the most conservative congressmen in the country" according to Think Progress, defended Clinton aide Huma Abedin and the right to religious freedom after a constituent voiced support for Rep. Michele Bachmann's recent allegations that Abedin is part of a Muslim Brotherhood infiltration of the U.S. Government.
"Let me say that I do know Huma Abedin and I think that the comments that were made about her in that letter, whether or not they were taken out of context, were the wrong thing to do…..Heidi, Heidi, Heidi, the First Amendment prohibits the government from making a distinction between what is "good religion" and what is "bad religion." That's none of the government's business. Religion is a personal issue to every one of the people who lives in the United States, whether you practice a faith, how you practice a faith, whether you don't practice a faith, whether you say you're a member of a faith but don't practice it, it's none of the government's business. And this is the whole issue of religious freedom. And that has been one of the most cherished freedoms that this country has had since it's beginning."
Watch, AFTER THE JUMP...