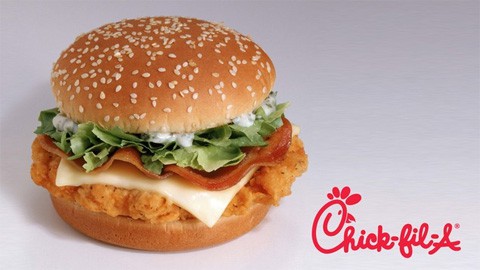 The Onion makes note of a new menu item from Chick-Fil-A, the "Queer Hatin' Cordon Bleu":
In a press conference to reporters, company representatives said the homophobic new sandwich will include the national fast food chain's trademark fried chicken filet wrapped in a piece of specially-smoked No Homo ham that would be topped with a slice of Swiss cheese and lathered in a creamy new Thousand Island-based Fag Punching sauce.
"The Queer-Hatin' Cordon Bleu is our company's way of showing our firm commitment to strong, Christian family values," said Chick-fil-A spokesman Robert Gary, before adding that the vehemently anti-gay rights sandwich comes served in a combo with waffle fries and a medium soda for just $6.95. "From the very first morsel of this savory meal to the very last bite, customers can envision gays burning in hell with their sodomizing cohorts, and know that our sandwich is on their side."
"Of course, the young ones will want to finish their meals off right with a No Fudge Packin' Soft Serve Cone," Gary added. "I can't think of a better way to follow up a sandwich this good."
They add: "According to sources, the Queer-Hatin' Cordon Bleu is merely the first of Chick-fil-A's new family values menu which is set to include the AIDS Is God's Curse chicken nugget combo and the Fags Caused 9/11 strawberry fruit smoothie."
(note: The Onion is satire)