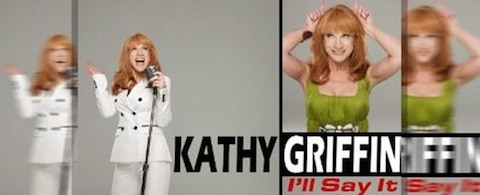 Not my cup of tea but I'm sure there's a superfan out there who will be pleased as punch.
Via Ryan Seacrest:
The theme song from Kathy's outrageous Bravo talk show has been turned into a brand new dance mix that salutes her favorite people. Featuring sound bites from her hilarious comedy shows, Kathy doesn't hold back in the remix. From Lindsay Lohan to Mel Gibson to the cast of "Jersey Shore," Kathy reminds us of her favorite targets in her act. In addition, Kathy can't help but give a shout-out to her gay fans.
Listen, AFTER THE JUMP...