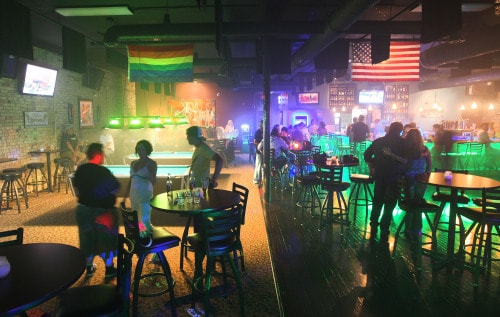 The Duluth News Tribune reports:
"No one ever had the gumption to do it before," Nelson said. "But Duluth has changed in the last few (mayoral) administrations. A lot has changed in Duluth."
People in general are more open-minded today, they say. So the two men, who have owned and operated the Flame Nightclub on Tower Avenue in Superior for six years, opened a Duluth version July 29 at 22-28 N. First Ave. W. in downtown Duluth Duluth Mayor Don Ness is supportive.
"I'd like to think that as a community we are beyond making an issue of whether or not it's a gay bar," Ness said. "It just seems like a very old-fashioned debate. Of course we welcome this business to Duluth."
Not a big deal in major cities, gay bars can have profound impact elsewhere:
Pride and American flags are displayed. And flat-screen TVs play sporting events, music videos or shadow dancing. But those who might be uncomfortable seeing two men dancing or holding hands probably should take a pass, the owners say. Gary Boelhower, a gay activist in Duluth, is delighted there's a club in Duluth for the GLBT community.
"Many GLBT people still in our society feel sometimes excluded," he said. "We certainly are still excluded in regards to legislative recognition in several ways within our state and country. It's important to have spaces where the gay and lesbian community can feel safe and accepted. And I think having the Flame Nightclub helps that process."