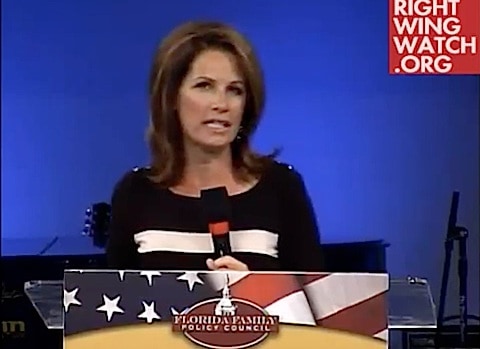 Right Wing Watch posts a highlight reel from Focus on the Family's and the Florida Family Policy Council's "Prayer Rally for America's Future" in Tampa's River Church, featurincast of crackpots Michele Bachmann, Rick Scarborough, Jim Garlow, Mat Staver, Pam Olsen and Harry Jackson.
Bachmann told participants that "at this moment in our End Time we are quite literally looking at a hurricane here at Florida, we are looking at political hurricane in our own country, we are looking at a spiritual hurricane in our land," telling them to "show up and suit up and stand up" and "pour it out for Him." Scarborough mourned the prominence of Lady Gaga, "the Big Bang Theory," Jerry Seinfeld, and "Brokeback Mountain," while Jim Garlow warned that Satan is pushing gay rights in order to "destroy the image of God" and curtail freedom.

Staver said that courts have begun to "deconstruct the foundation of law," leading to tyranny, legal abortion and same-sex marriage, and Olsen prayed for the Supreme Court to repent: "Lord we cry out for the US Supreme Court, God that these justices will realize that there is a judge higher than they are and God that they will bow before You. We a crying out for a president that will appoint pro-life justices that will stand for truth and this nation will turn back to You, touch the Supreme Court now."
Watch the nuttiness go down, AFTER THE JUMP...