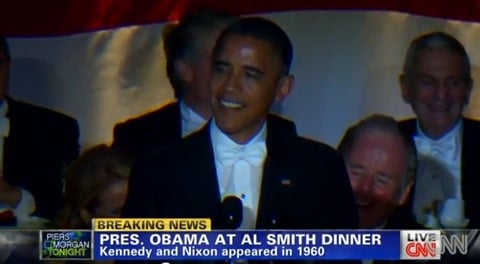 Last night President Obama and Mitt Romney exercised their comedy chops at the 67th Annual Alfred E. Smith Memorial Foundation white tie dinner in New York. The dinner benefited Catholic charities and at its center was NYC's homophobic Cardinal, Timothy Dolan.
Said Obama:
"In less than three weeks voters in states like Ohio, Virginia and Florida will decide this incredibly important election, which begs the question: What are we doing here?...This is the third time that Gov. Romney and I have met recently. As some of you may have noticed, I had a lot more energy in our second debate. I felt really well-rested after the nice, long nap I had in the first debate."
Jabbed Romney:
"I heard from the Federal Election Commission: From now on, whenever he appears on TV, there's a recording of me afterward that says, 'I'm Mitt Romney and I approve this message.' I was actually hoping the president would bring Joe Biden along this evening because he will laugh at anything."
Watch excerpts and raw video, AFTER THE JUMP...
Excerpts:
Obama:
Romney: