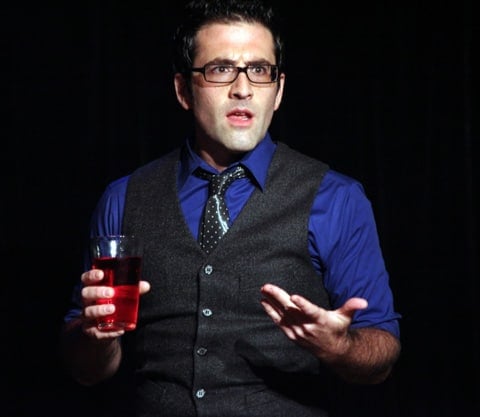 BY NAVEEN KUMAR
Though Broadway diva Patti LuPone plays no small part in this critically embraced solo show that bears her name, Patti Issues, written and performed by Ben Rimalower, has broader-than-show-queen appeal.
Delivered as a single monologue by Rimalower in the intimate cabaret theatre upstairs at the Duplex, Patti Issues is more than a fanatic's ode to his legendary idol. At its core this coming-of-age story is about Rimalower's troubled relationship with his gay father, who abandoned his family for a series of flames that burned up quickly, consuming his dad in the process.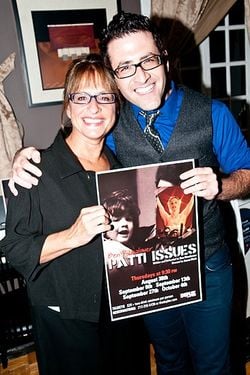 Like so many, Rimalower turned to the arts—and musical theatre in particular—as a source of solace from the emotional growing pains of an unconventional adolescence. His kinship with LuPone began as a teenage obsession over her performance as Eva Perón in the original Broadway cast recording of Evita. A boy and his headphones.
Unlike many, Rimalower met his idol. Not only that, but his gig as an assistant director to Lonny Price on the 2000 NY Philharmonic concert performance Sweeney Todd entailed a private line-running session with Ms. LuPone—during which she sang the entire vocal part of Mrs. Lovett into his euphoric, beaming face.
He thereafter developed a personal and professional relationship with the leading lady that hasn't always been wine and roses. As Rimalower recounts in his sixty minute show, it's through a unique connection to his idol that he learns a thing or two about life, family, and coming out on top. Like a diva, of course.
I spoke to Ben about his experience performing the show, his plans for the future, and of course Patti LuPone.
Naveen Kumar: You're very emotionally honest in Patti Issues about your experiences growing up. Is there anything that you hope people might take away from seeing the show—I hate to say a "lesson"—but any sort of insight you hope people might gain from hearing about your own experience?
Ben Rimalower: I hope that they connect to it personally in a way that they feel that they've shared my journey, and it transported them emotionally. As far as a message, I know what the show is about for me, in terms of what I'm trying to learn from it myself.
Patti was for me, and still is in a lot of ways, this sort of superhero [in whom] I found inspiration and empowerment. I vicariously triumphed through her and vicariously shared her rivalries—even the rivalries I imagined she would have, those were mine too. Then I got to know her, and had to interact with her on this different level—as an actual human being.
I think maybe the universal aspect [of the show] is something we have to experience growing up — to see our parents as real people, and not as these gods who are infallible that are always going to take care of us. My father certainly let me down at that. In a very different way, I could see this from my relationship with Patti, because after all she was not my fairy godmother, she was a person.
Read more, AFTER THE JUMP...
When I was doing a [cabaret show based on her recordings] that,
at a certain point, she didn't think was conducive to her career, she cut it
off. She didn't say, 'Well, I love Ben, he's so sweet let's just let them do it.'
She said, 'No, that's it,' and she didn't take care of me. But instead of
feeling betrayed by her, I realized at the end of the day, it was not Patti's
responsibility to take care of me. So I didn't have to forgive her for that
because I was responsible for myself. I still produced an album with Patti, and
wound up having a successful relationship with her after that happened.
Then when I saw my father [for the first time in many years]
at Gypsy, it was actually an
empowering moment for me. I saw him like an adult. For better or worse, [I had]
grown up without his help, and was just able to realize, it is what it is. 
For me that's why the stories were intertwined when I was
trying to write about my own experience. So, maybe there is something for other
people to take away from that.
NK: From your experience, why do you think so many young LGBT
people turn to theatre, and musical theatre in particular in that process of
growing up?
BR: There are so many different things that come together in
musical theatre. Definitely my attraction to it most of all was that musical
theatre is where you'll find 'the diva.' You can see Meryl Streep or Glenn
Close in a great film and there's a diva aspect to them giving this virtuoso
performance, but they're not asked to step forward and sing and go to that
heightened level, which for me has always been so transporting. That's always
been what dazzled me. I felt vicariously empowered by that.
Also musical theatre combines singing, dancing, music, set, costumes,
[etc.] and brings together so many creative forces, and I think LGBT people
tend to be creative. [Many of us] grew up around [musicals] and they were what
we had available as avenues to perform or express ourselves creatively in
school. [We] weren't doing experimental Off-Broadway plays or Philip Glass
operas. Who knows, maybe my life would have been different!
NK: Well, Meryl does sing in Mamma Mia!, I have to point out.
BR: Thank you for that, I was just waiting for you to say
that! No, obviously and I think she sings in Death Becomes Her and Postcards
From The Edge and she's done musicals on Broadway, but that hasn't been the
bulk of what she's associated with.
NK: You began your career in professional theatre on the
directing side, starting with your assistant gig to Lonny Price. How has your
experience been transitioning into the role of performer?
BR: It's been great. I came into this experience because I
wanted to be writing, and what felt natural for me to write also happened to be
something I felt like I should perform myself. It wasn't originally my
intention.
I've always had a very extroverted and performative
personality. I had chosen not to focus on performing, but having stumbled back
into it, I've found that I really love it. It's given me a lot of sympathy for
all the actors I've worked with, and actors in general. It's really the
performer's ass out there on stage, and no matter that the behind-the-scenes
talent thinks or knows, the performer is the one who's out there dealing with
the audience in the moment night after night.
NK: Can you talk about the future life of the show, and
what's next for you?
BR: I'd love to see Patti
Issues go as far and wide as possible. It still really feels very fresh to
me; I really enjoy performing it for new people, and it seems like a diversity
of people that are responding to it. I'd like to keep performing the show as
long as possible in New York and I'm very happy doing it at the Duplex. I'm
doing it in a few cities in California in the coming months. I'm working right
now on booking it in other venues around the country, and even some overseas
within the next year.
I'd also like to adapt it into a memoir and publish it, so
I'm working on getting that ball rolling, which will involve a lot of
repackaging and reconceiving it. I also have another show in mind, another solo
show like this that I want to do [for which] I just have some rough material. Hopefully
within the next year I'll be ready to open the new show too.
NK: Has Patti been to see the show?
BR: Patti has! Patti came to the second performance back in
September.
NK: How was that?
BR: Well…it was terrifying. [laughs] It was very scary.
Originally I was booked only for five performances, so the onus was on my to
try to get everyone that I could get in to see it. Patti is such an important
force in my life, especially creatively, that if I were doing anything at all,
it would be my dream for her to see my work. Even if this had nothing to do
with her, I would have really wanted her to see it.
I was also really nervous, what if this was not something
for her? What if she didn't like it? What if she thought it was bad? What if
she was offended? So I had to kind of put that aside.
The audience the night Patti came was insane. I mean the tension in the room, people were watching her. She has such a great
laugh, it really is like the wicked witch's cackle, so right away it was clear
that Patti has a sense of humor about herself, and she buys into the idea of
herself as this sort of straight-shooting, tough-as-nails, old school, brassy
Broadway dame. So that set everybody at ease for a lot of the show because she
was laughing the loudest at all this schtick of me representing her a certain
way.
Then it got to the point about her threatening to sue me,
and it was really strange in that room. But Patti loved it. The thing is, Patti
doesn't feel I represent her like a bitch because she stands behind the
integrity of what she believes. Patti felt that [the cabaret show at Joe's Pub]
was not good for her, and that she had the right to have it stopped, and that I
was lucky she called first rather than of suing me. So she wasn't offended by
that at all, and I think she appreciated that I portrayed it truthfully. 
Patti Issues, directed by Aaron Mark, is running through April 24th at The Duplex, 61 Christopher Street, NYC.
Recent theatre features…
'Picnic' Starring Sebastian Stan Opens on Broadway: REVIEW
'The Other Place' Starring Laurie Metcalf Opens On Broadway: REVIEW
Rob Ashford Takes on 'Cat On A Hot Tin Roof' on Broadway: INTERVIEW
Pulitzer Prize Winner 'Water By The Spoonful' Opens Off-Broadway: REVIEW
Amy Herzog's 'The Great God Pan' Opens Off-Broadway: REVIEW
Follow Naveen Kumar on Twitter @Mr_NaveenKumar.