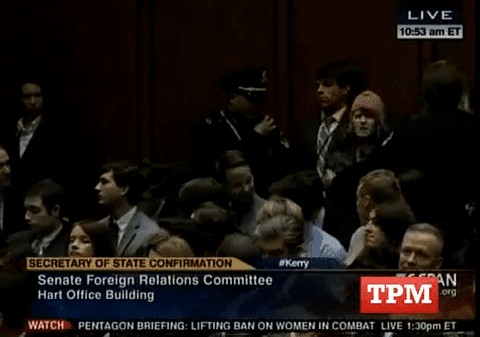 As Senator John Kerry sat before his peers today to begin confirmation hearings for his Secretary of State nomination, a Code Pink activist stood up to protest drone and other targeted killings in the Middle East. You can watch the Talking Points Memo video, via Joe.My.God, AFTER THE JUMP.
Before that, though, take note that Kerry was asked about former Sen. Chuck Hagel's Defense Secretary nomination, a nomination marred by controversy over comments about gay people and Israel, and that Kerry said he thinks Hagel is a "strong patriotic former senator."
[GOP Sen. Bob] Corker asked Kerry whether Hagel's past involvement with Global Zero, an international group promoting the elimination of nuclear weapons, would be appropriate at the Defense Department.

"I think he is a strong patriotic former senator, and he will be a strong secretary of defense," Kerry responded. "And I think some of the things that have been — some of the efforts to color Senator Hagel's approach on some of these things don't do justice."

"I don't think Hagel's going to sit there and going to go over to the Defense Department and a proponent [of Global Zero]," Kerry added.
Watch the protest video AFTER THE JUMP.