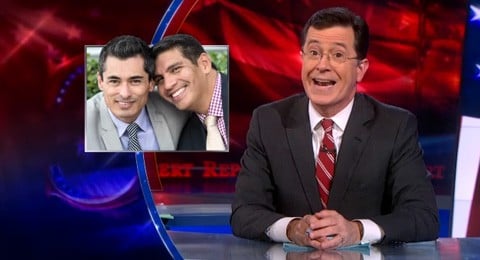 Stephen Colbert highlights Georgia GOP Chairwoman Sue Everhart's recent remarks that gay marriage is not right because same-sex couples "do not have the equipment" for a sexual relationship and that the whole thing is a set-up for heterosexuals who lie about their sexuality to pretend to get gay-married and collect the benefits.
Says Colbert:
"Yes. A free ride. This entire battle about marriage equality has really been about straight men trying to get free health care. Because if there's one thing I know about straight guys - it's that they will jump at any chance for their peers to think they might be gay... Of course two straight guys getting married for benefits isn't a new scheme. It was blown wide open in the explosive documentary I Now Pronounce You Chuck and Larry..."
Watch, AFTER THE JUMP...