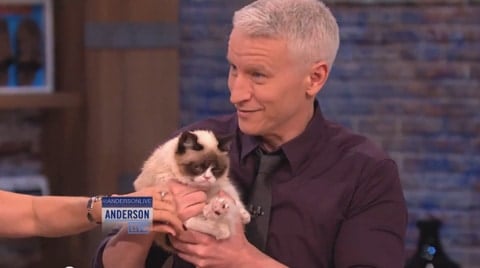 Grumpy Cat, the feline face that inspired many a meme, is heading to the big screen, Deadline reports:
Broken Road's Todd Garner and Sean Robins, and Grumpy Cat's reps (manager Ben Lashes and rep Al Hassas) have teamed up to produce and assemble a package for a Garfield-like feature film with the famous frowning feline at the center. Here, Grumpy Cat (real name Tardar Sauce) will be given the power of speech. How much movie potential can a Grumpy Cat have? Well, she has been scratching at the door of fame in a big way. Among the indicators: Grumpy Cat was named the most influential cat of 2012 by MSNBC, a most important Meme of 2012 by Mashable, and has appeared on such TV shows including Today, Good Morning America, CBS Evening News, Anderson Cooper Live, VH1 Morning Buzz and The Soup.
Watch Grumpy Cat's appearance on Anderson Live, AFTER THE JUMP...