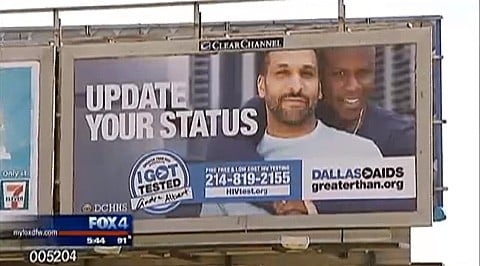 A Dallis councilwoman is complaining about a freeway billboard that depicts a Black gay couple in an embrace and encourages people to know their HIV status, the Dallas Observer reports: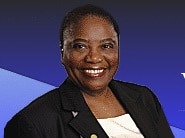 But you can't plaster two gay dudes on a billboard in southern Dallas and expect it to fly with (notoriously anti-gay) Dallas City Councilwoman Vonciel Jones Hill (right). She seems to fear the ad might have a corrupting influence on passersby. In an email to Fox 4's Shaun Rabb, she expressed concern that "African American men who engage in homosexual conduct [are] presented as acceptable" in the ad and that it amounts to an endorsement of homosexuality.

[Dallas County Health Director Zachary Thompson], meanwhile, who is engaged in a reality-based fight against a deadly scourge, bangs his head against the wall in frustration. "The message is very clear," he told Rabb. "The message is: among African American men who have sex with men the rate of HIV new cases is at an epidemic proportion."
Watch FOX4's report, AFTER THE JUMP...